Homemade Yogurt with yogurt soaked almonds. A fabulous way to make yogurt. You can also make it same method in an Instapot. Add almonds to a half cup of yogurt and soak for 24 hours. Then add to boiled and cooled down milk. The milk temperature should be 115 C for perfect yogurt. The yogurt will be ready in 6 to 10 hours depending on where you live.
Khandavi or Surali VadiKhandavi or Surali Vadi
A.
Ingredients: for blending in the mixer.
½ cup of Besan flour
½ cup o Dahi
1 cup of water
4 to 5 garlic cloves
½ inch of ginger
1 green chilli
½ teaspoon of Jeera
½ teaspoon of dhania powder
Pinch of Hing
½ teaspoon of Haldi
½ teaspoon Pulav Masala or Garam Masala
Add everything in the blender and mix nicely
B.
Other ingredients for tadaka
2 Tablespoon oil
1 teaspoon mustard seeds
½ teaspoon cilantro seeds
6 to 8 curry leaves optional
Pinch of Hing
C.
Ingredients for garnishing
½ cup cilantro finely cut
½ cup of fresh grated coconut
Blend in the mixer all the A ingredients
Add them in a small stainless steel pot and pressure cook it until 4 to 5 whistles.
In the meantime take a baking tray or stainless steel thali and grease it with oil using a cooking brush.
After the pressure is gone, take out the mixture and mix it well. Then pour on the tray and spread it with a spoon or something flat. Once it is cold then dip your hand in a bit of oil and water and spread it thin by hand. Then cut in stips and add the garnish and a bit of tadaka. Then roll them by hand and garnish on top by tadaka and coconut and cilantro.
#
Idli Recipe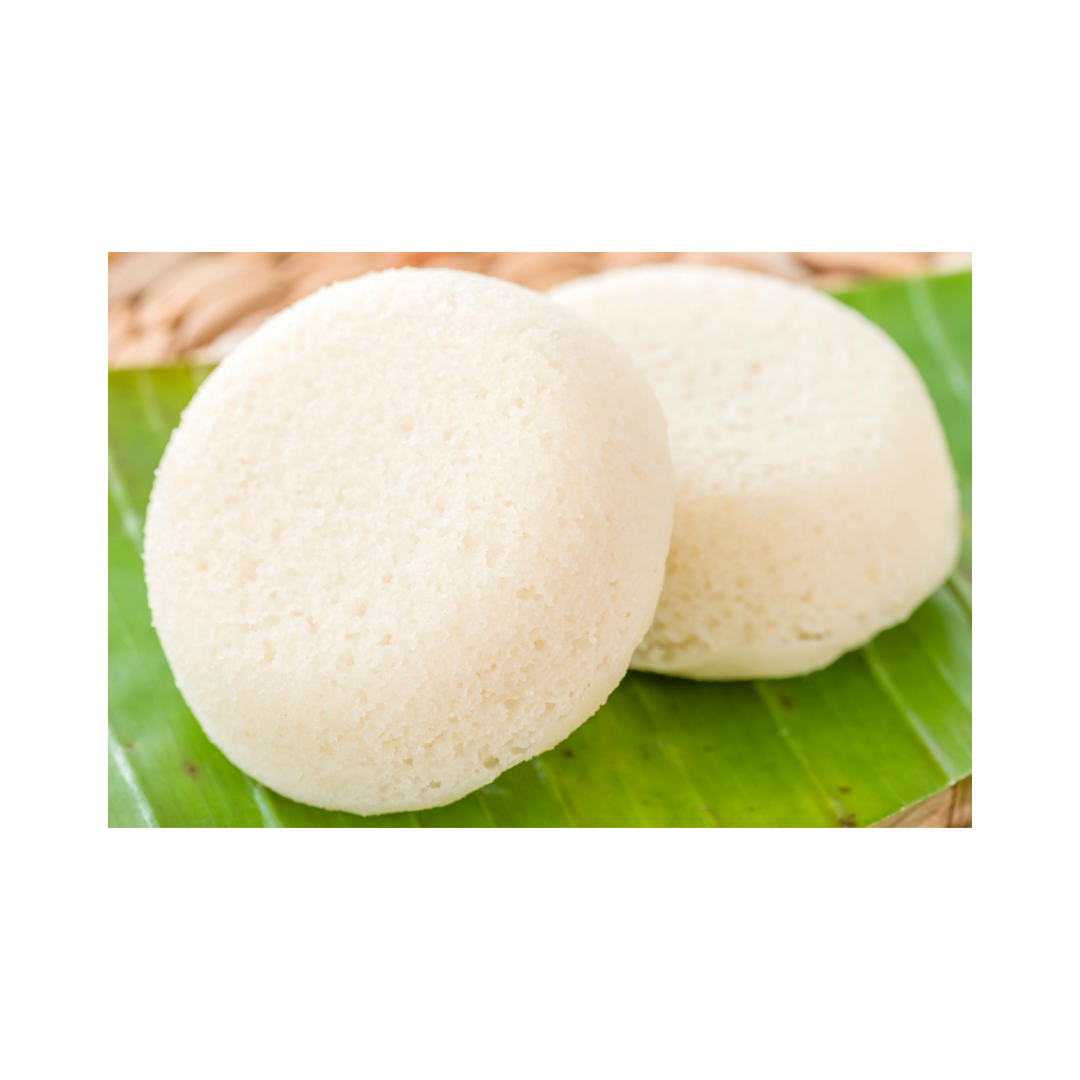 Here is my recipe for making Idalis with my tips and tricks. South Indian members please correct me and add your tips to this thread if you have any. Soak 3/4 Cup Sabudana 1 Cup Urad Dal 3 Cups Idali Rice soak separately. In Sabudana ( sago) add less than half a cup water ( half of 3/4th cup) Rice and Dal soak separately in lots of water. They should more than submerge in water. Soak all the ingredients overnight if possible or at least for more than 6 hours to 8 hours. Grind Sabudana first and do not throw any water add to a large container with a lid where you want to keep the batter for fermentation. Drain Urad dal and grind it with about one cup of ice-cold water so it will not heat up in the mixer. Use less than one cup of water too much water is not good for proper fermentation and add to the fermentation container Then drain rice flour and again with ice-cold water grind it in three to four batches again use only one cup of ice-cold water. Again, add to the fermentation container. Add in the salt and mix the batter well with hands. It is important that you mix the batter really well at this stage. Allow the idli batter to ferment for 8-10 hours. It might take longer if you live in a cold place. Again, mix the idli batter well after it has fermented and store it in the refrigerator and use it within the next 3 days. When the Idalis is done test - d)a pinch before you steam the Idalis. Steaming Idlis is easy. Add water in a steamer, oil your Idali Patra. Add the dove gently and steam. Do not over steam Idalis for softer Idalis. Usually, after the steamer is boiling rapidly it will take 6 to 8 Minutes for the Idalis to cook. When the Idalis is done test - very important. After 6 minutes of steaming Idalis, insert a fork of Knife in one of the Idalis, If there is no batter sticking to your fork then the Idalis is🥰🥰🥰 done. Another trick for not breaking the Idalis is keep them undisturbed for 4 to 5 minutes and then spoon them out. What I have done, since I am impatient, I have two Idali stands and one steamer. So I take out one stand and put in another stand immediately. So I don't have to wait for them to cool down. Just a suggestion.
How to make quick Sheera or Halwa in less than 15 Minutes.
Halwa or Sheera in less than 15 minutes. Ingredients: Cream of Wheat, Soji or Rava - 2 cups Sugar about 1 cup Ghee or melted butter 3/4th cup 1 teaspoon cardamom powder 2 ripe bananas mashed up Half a cup resins 1/3 cup cut cashews 1/3 cup cut almonds Pinch of salt 2 cups of milk and one cup of water or half water and half milk is ok too. Keep the 2 cups of milk and water combination in a microwave safe measuring bowl or pot and boil for about 5 minutes or until it comes to boil. You can do that on the gas as well. On Medium to high heat roast cream of wheat with 3/4th cup of butter or ghee for 4 to 5 minutes Add cardamom powder and nuts to it as well midway through roasting since the roasted nuts and cardamom smells and tastes really good. After the cream of wheat gets pinkish and start smelling really good. Now add the boiling hot milk and water to this hot cream of wheat. Be careful, it may look like there is too much liquid in the pot but in a minute this mixture will become dry as the cream of wheat will become fluffy and soft. Reduce the heat to medium At this point you cover it for a minute but this is already cooked with so much heat of boiling milk and water and hot cream of wheat. Now add the remaining ingredients - mashed bananas, resins, 3/4th cup of sugar and pinch of salt. Mix well and put a cover for another two minutes at this point, reduce the heat more and make sure it is not sticking to the bottom. Now taste the Halwa or Sheera if you need more sugar add the remaining sugar. You might not need it because bananas are also so sweet. Enjoy this Halwa or Sheera is very quick to make and really yummy!
Sabudana Vada Fry or Air Fry the Vadada (Sago Vada)
Fry or Air Fry. Ingredients:One and a half cup sabudana (Sago)soaked overnight. One medium-size potato - small pieces. 4 to 6 chillis and a medium piece of ginger grated not very fine If you don't eat ginger for fasting do not put it. Salt one and a half teaspoon or as needed Roasted grounded peanuts - 1 cup. Cilantro cut finely Half a bunch will be nice. Some flour - vari or Araroot or even potato flex is ok for binding. Mix everything and make small balls and make them a little flat. While making balls you can use oil to make sure they don't stick to your hand Fry in oil or Ghee that is your choice. Fry until they get a bit brown. They are crisp and tasty.. You can also AirFry them they come out nice with Air frying and also becomes easy to make.
Making plain Dal - Varan - A Maharashtrian and also CKP Recipe. How to make plan dal or Gode Varan. Ingredients - Toor Dal one cup, Turmeric 1 teaspoon, Hing - One large pinch, salt to taste, Sugar if you would like, Hot water Soak the dal for few hours then boil in pressure cooker. When it boils white foam comes on the top. Remove the foam on the top. This makes the dal very tasty since the strong smell comes out of the dal and also it cooks softer and would not come out of pressure cooker near the pressure. Also taking out foam makes the dal easy to digest. After that add Turmeric one teaspoon, Hing a pinch and two flat teaspoon salt for two full cups of dal. Then start the pressure cooker, after the pressure reduce to low heat for 10 minutes. Also you can make the cooker on low just before the pressure goes and keep for 15 minutes. Also you can cook this in Instapot. After the pressure is gone completely open the pressure cooker and then add one cup of hot water to it and boil to a full boil. You can add some more hot water to make it to right consistancy. Many people will add per cup one Table spoon of Sugar to the dal. But many people in the north does not like to add sweet, so it is upto you if you would like to add sugar or not. Both ways this Varan test really yummy. What to eat it with? what food one can eat Varan? Varan, roti or rice and stuffed baingan test really good. Varan, roti or rice and spicy potatos tests yum Varan also goes with rice and Ghee and any dry vegetable Nutritional Value- Varan has carbs but also contains proteins so is a important ingredient for Vegeterian people.
Chicken Mejwani - Find Masala here -
http://nirvanastyle.com/indian-masala... Chicken Curry Recipe CKP style. Masalas used are Tomato, onion, ginger garlic masala and Fried Onion Masala, Shan Achar Ghosh Masala or Pulav Masala from
http://nirvanastyle.com/indian-masala... website. Ingredients - 2 pounds of Chicken thights with bones, also boneless is fine also you can cook with whole chicken or Chicken breast.
http://nirvanastyle.com/indian-masala... - premake these masalas.- One cup of Tomato, onion ginger, garlic masala Half a cup of fryed onion masala. Shan Achari Masala or Pulav Masala. Turmeric one table spoon, Chilli power two table spoons or according to your taste, bay leaves 2, Cinaman sticks few pieces, You can add pinch of pulav masala or few cloves for tadaka. Yogurt one cup, Cut 2 onions midium size, 2 tomatoes, about one and half table spoon of salt - according to your taste. Cilantro to garnish. Marinate 2 pounds of Chicken thighes overnight if possible or atleast 30 minutes with one cup Yogurt, Turmeric, One tablespoon Chili powder, One tablespoon ginger paste, one table spoon of garlic. Make Tadaka and add bay leaves 2, Cinaman sticks few pieces, You can add pinch of pulav masala or few cloves. Add Garlic and ginger paste and Saute nicely then add Onion and tomato, add chicken and saute. Add One cup of Tomato, onion ginger, garlic masala Half a cup of fryed onion masala, add remaining one tea spoon of salt. Add a cup of water and pressure cook or Insta pot everything after whistle 5 minutes or you can cook on medium flame making sure it does not stick to the bottom. Boil the chicken on full and garnish with cilantro. Mejawani Chicken Curry tastes very good with Rice, Chapati, Paratha, Nan etc. Do serve with cut lamon and cut onion.
Pav Bhaji Recipe Live Show Chia Seed Kheer Recipe
Pav Bhaji Recipe Live Show
Chia Seed Kheer Recipe Click on the link to get the ingedients list.
Tomato Onion Ginger Garlic Masala - quick method.
2 large onions, 3 tomoatos, 20 cloves of garlic, 2 inches of ginger add 1/3 cup water Cook in pressure cooker after whisle for 5 minutes. evaporate a little bit water then grind the cooked mixture in a grinder. Then with 2 tablespoon of Ghee or Butter saute until oil starts coming out and the masala becomes thick. Veg dishes: Rajama, paneer dishes, kofta dishes
non-veg dishes: Chicken, Mutton, Egg Curry, Kheema, cutlets, Pulav, Prawns curry
I use Organic Fried Onions from Costco but Fried onion is available in all Indian Grocery stores. But Costco one is the best. One Cup Fried Onion, 1Tablespoon of Dhania Seeds( Cilantro Seeds),1/3 cup or Two Tablespoon of coconut power. Grind with one cup to one and half to two cups of water until it gets to masala consitancy. You add Garam Masala we call it Pulav Masala In it when you are ready to cook and I will give you the proportion of this famous Pulav Masala of mine. Can be used for Vegeterian Dishes like black eyed beans, Rajma, Chana, Stuffed eggplant, eggplant, Golyachi Amati, Vadyache Sambar. Non- veg dishes like egg curry, Chicken Curry, Mutton Curry, Prawns Curry.
Many Viewers have asked about the pan I am using. It is the Futura Pan available on Amazon.
Many Viewers have asked about the pan I am using. It is the Futura Pan available on Amazon.